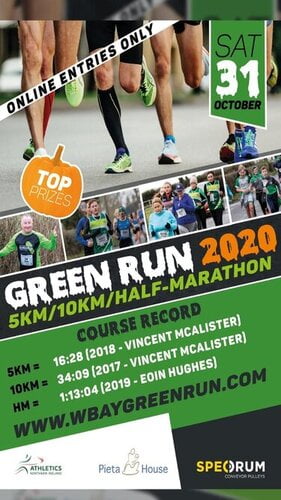 Washingbay Green Run 2020
WGR20 ☘️ Sat 31st October @ 10:30am.
ONLINE ENTRIES ONLY THIS YEAR!!
Great to hear this year's Washingbay Green Run 2020, which had to be postponed due to the Covid-19 outbreak, will take place on Saturday 31st October. Western is one of the key sponsors of the Run.
Extensive planning has gone into this year's rescheduled event to ensure the safety of all entrants.
Due to current Covid-19 restrictions physical entries will not be accepted on the day so sign-ups must be completed online at – www.wbaygreenrun.com
We have already seen a record number of sign-ups so make sure to register now to avoid disappointment.
Further information on split time start-offs will follow soon for each race event.
If you have any questions about the race please follow this link to the FAQ page – http://wbaygreenrun.com/faq/