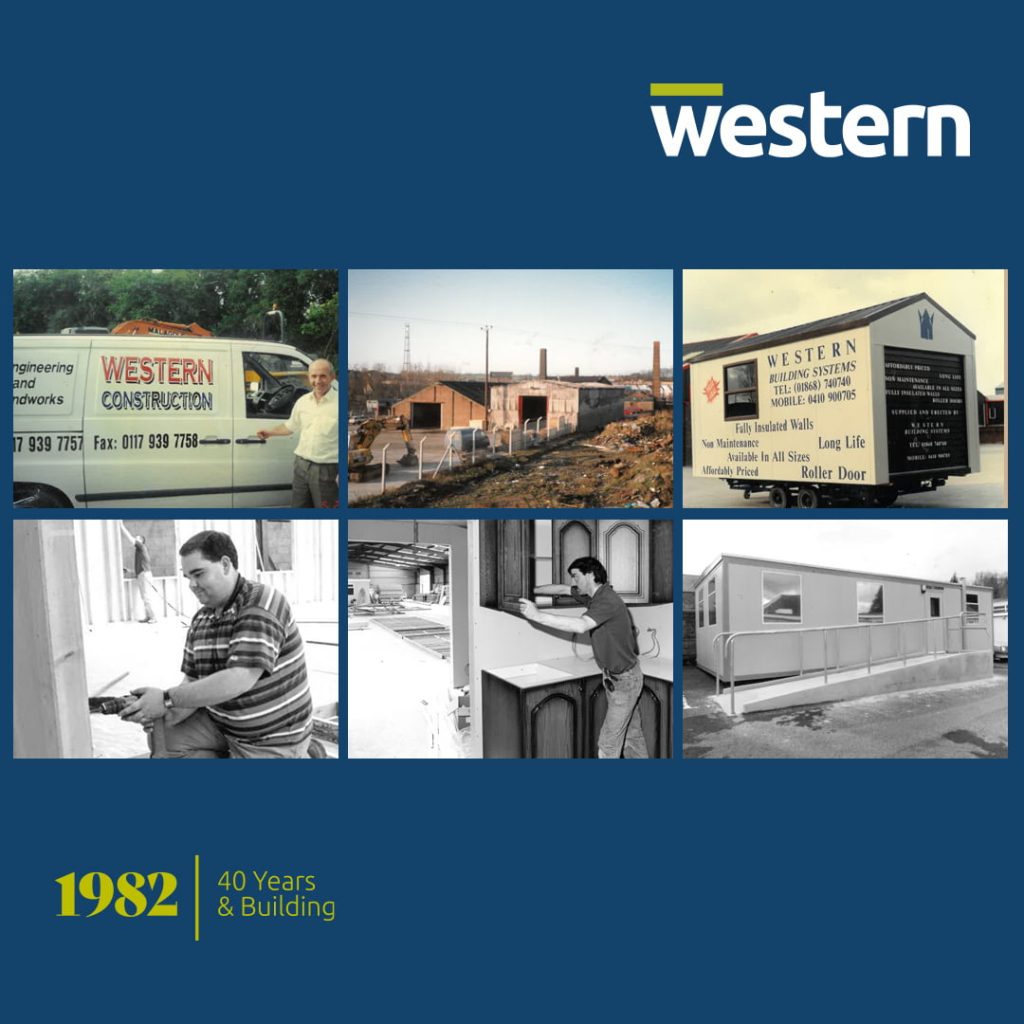 Here at Western Build, our passion for construction excellence has allowed us to lead our industry for over four decades. As a family-owned business providing work for over 70 locally-based employees, we look back at our 40-year heritage with immense pride. It's a story we love to share…
---
Humble Beginnings in 1982 
Western Build was established in its earliest form as Western Roofing on October 20th 1982 by our very-own Martin McCloskey. From those humble beginnings, he launched his family-run business with its first-ever factory and off-site production facility. Just a few years after setting up the company, Western Tank Linings was added which expanded the business into steel-framed garden sheds.
From that point, Western moved towards the manufacture of mobile buildings for Northern Ireland's housing & education sectors. By 1987, the company's growth required new production facilities. This led to the business to the old Ulster Fireclay factory yard in Coalisland, Co. Tyrone, where we then started to manufacture mobile homes. This was in direct response to an urgent need for more classroom accommodation throughout the 1980s. Whilst we started off by advertising our work in local newspapers, we quickly began to respond to tenders, winning our first project for a school in County Antrim; manufacturing and delivering mobile buildings back in 1988.
---
Growth & Development 
Those were exciting times for WBS, but they weren't without their challenges. In the late 1980s, a devastating fire ripped through our production facilities. Recovering from that incident and getting back on our feet was down to the hard work and determination of each and every person in the company who came together to rebuild what was lost.
The introduction of integrated education in the early 1990s saw a rise in demand for mobile classrooms, with greater opportunity in the market. Both existing & new schools required new facilities, and this coincided with the growth of Western who had grown to have over 30 employees. During this period, our staff went above and beyond to meet production demand, often working long hours over a 7-day week. With staff mostly employed from the local area, our company continued to grow and prosper over the coming years.
---
Looking to the Future 
Western now operates out of a rural site on the outskirts of Coalisland, where factories are now based to produce buildings and their associated products. With over 70 locally-based employees now working for the company, we look back with pride at just how far we've come together.
Western is focused on investing in our staff and processes in order to ensure a committed, motivated and effective workforce. We strive to foster a culture of continuous improvement, innovation and excellence, and this has helped us to grow year on year to become one of Ireland's leading building contractors. 40 years after Western was founded, the company is still driven by the same energy, enthusiasm and ambition which have helped it to develop and expand into new markets and sectors.
We define our vision through the construction of our builds and in particular our in-house developments. We focus our business on improving the built environment and providing a sustainable future; ensuring long-term success by contributing economically, environmentally and socially to the communities in which we operate.
Our growth strategy is based on building on our core markets as well as expanding into new areas. We are currently included on a number of major procurement frameworks such as the Republic of Ireland's New Framework for Rapid Build Schools and the UK Government Procurement Service's Framework for hospitals and school buildings. We have recently delivered major retail building projects and plan to increase our commercial portfolio further in the times ahead.