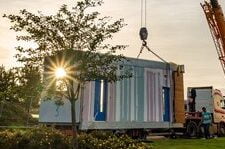 Double-Classroom unit installation at Drumragh Integrated College, Omagh
Western is currently in the throes of delivering a 16-week project to install new modular accommodation at Drumragh Integrated College, Omagh.
This scheme includes the construction and installation of a new double classroom unit, whilst externally we are responsible for bitumen macadam surfacing, drainage works and the building of a retaining wall. Existing oil and gas tanks will be relocated as part of the project with the current oil and gas compounds being demolished.
Our team will be adhering to strict Covid-19 protocols throughout and the job has been carefully co-ordinated to avoid disruption to the staff and pupils on their return to school.